Planning your visit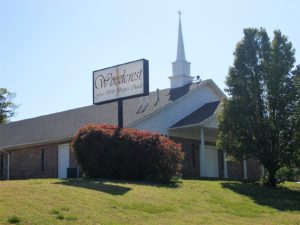 The members of Woodcrest Church hope you will come and join us for worship very soon. When you visit, you can expect to see a friendly face as soon as you walk through the door.
Our Bible study time is 9am each Sunday morning. There are two adult classes to choose from along with classes for the children and teens. All classes teach the Bible as God's infallible Word. Woodcrest is a friendly church with friendly people. These classes are a great way to make new friends and be challenged by God's Word. One of our greeters will direct you to the class of your choice.
Our worship time is 10am each Sunday morning. Feel free to park on either side of the sanctuary. You will see the Worship Center doors as soon as you enter the foyer of the church. Nursery is provided for all services and both our nursery and pre-school are located nearby so your children will not be far away.
Our members are always happy to see new faces and our goal is for you to feel welcome and relaxed. Our worship team will lead the congregation in praise to our God and Pastor Roger will deliver a message from God's Word that will challenge and encourage you.
We hope you choose to visit Woodcrest Church soon.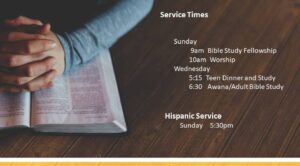 We are also excited to partner with Pastor Elvis Almanza and Iglesia Cristiana Nuevo Comienzo as they minister to our Hispanic Community. You can check them out on their Facebook page:https://www.facebook.com/catoosa.inc