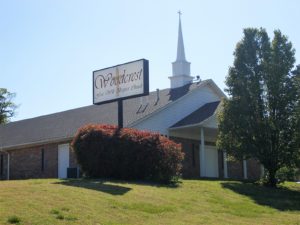 Our prayer is that you will be blessed and strengthened by the power of Jesus, and that you will live a life of abundance in fellowship, joy and liberty. Woodcrest Church is here for you. It is not just a church; it is a fellowship of believers coming together to declare the glory of the Lord, and to celebrate Jesus as King. We study the Word, practice what we learn, and in the process grow together. May God richly bless you! May the Lord bless you and keep you! We hope to see you soon!
Up Coming Events
Teen Camp @ KBA Talihina!
12 – Men's Fellowship @ 6:30pm
13 – Summer Program all ages 6:30-7:30pm
18 –

Kid's Day Camp begins!
19 – Men's Fellowship @ 6:30pm
20 – Summer Program all ages 6:30 – 7:30pm
26 – Men's Fellowship @ 6:30pm
27 – Summer Program all ages 6:30-7:30pm
28 – Opportunity to Serve @ John 3:16
*Member of Free Will Baptist Association